24/07/2015
Motorization for swing gates - Nice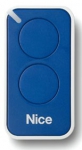 Nice is a very well-known brand in the field of engines for gates, shutters, swing-gates and garage doors ... The brand was founded in 1993 and their aim is to make the control of house installations as easy as possible.
Among the products are remote controls for gates of NICE or the well-known solar kits that allow you to supply your gate motor with solar power. The brand was able to establish itself very quick on the market, because their products are durable and have high quality standards and meet all European regulations.
Motorization for swing gates - Nice: the products
Swing gates are very practical: the Nice brand offers various solutions for the motorization to the opening of doors, depending on the available space, the dimensions and weight of the doors and the style of the entrance.
Among the solutions there are the completely submerged and therefore invisible motors: this is particularly suitable for entrance areas to be designed elegant and discreet. It is also possible to open a pedestrian door with a motor arm. In the case of very robust gates the motors can be used with threaded drive. This is another variant that is offered by Nice. Thus, you clearly understand that the choice of the appropriate remote control Nice is very important.
The remote control Nice FLO2
The remotes Nice FLO2 are very handy for gates. The fobs from Nice are not compatible with all gates: to be sure to choose the correct model, check the technical details of the remote and the programming method. Note that the remote control Nice FLO2 (switch) is only compatible with the models Nice FLO1 and FLO4.