01/08/2015
Features of the remote Doitrand TS2DE
Doitrand is a French brand in the field of motorization and automation of gates and garage doors. The brand produces, installs and provides since more than ten years, automatic and manual overhead doors. In this area Doitrand has as target private customers or community facilities. The company works closely with other merchants for Automation producing accessories like remote controls.
The features of the remote Doitrand TS2DE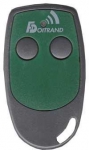 The remote control Doitrand TS2DE is used exclusively for gates and garage doors. Finally you don't have to open and close the door manually, which takes too long and offers no security for your garage. The remote of the brand Doitrand saves you time.
Simply press the button and point to the gate, and you no longer have to get out of the car to open your garage door. Currently this remote control replaces older models like the SIMINOR 433-S9, the Doitrand MPSTF2E, the PRASTEL MPSTF2E Yellow and TS2DE Old.
How to program the remote Doitrand TS2DE
It is not difficult to program the remote control Doitrand TS2DE. Equipped with two yellow buttons and batteries of the type CR2016, a frequency of 433.92 MHz and normal dimensions of 67 * 38 * 10mm, the remote is ergonomically.
The remote control works with a Doitrand receiver, which is mounted at the gate. When you press a button on the remote, you will hear a beep tone at the receiver to acknowledge the receipt of the signal. The gate opens or closes now. If one of your accessories is broken, the connection can't be established and the engine cannot be activated. In this case, visit remotecontrol-express.com to find spare parts for your remote control Doitrand.