06/08/2015
Properties of BFT Mitto 2M keyfob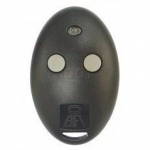 BFT products are created for all residential customers who own a garage door or yard gate. Open the and close your door automatically with a BFT motor is choosing good quality.
The BFT brand is a leader for accessories and spare parts for engines and has been present for over 35 years worldwide. The brand uses many remote controls models and references to control their motors. So you have to be careful by choosing the right model.
The properties of the hand transmitter BFT Mitto 2M
The BFT remote Mitto 2M is equipped with a rolling code and it must be stored directly on the recipient of your garage. It can control your BFT engine. Easy to use and with ideal dimensions, it has two functions to control up to two engines.
Based on the 433.92Mhz frequency, is the Mitto 2 is an ideal model to control your garage door by distance. It is supplied with a 12V battery.
How to program the remote control BFT Mitto 2M
A remote control is the indispensable accessory for your garage door. The best-selling model from BFT in Europe is the BFT Mitto 2M. It can be programmed in a short time. Just open the cover of the receiver and press the SW1 programming button and an LED flashes.
Then press the hidden button of new Mitto 2M until the LED on the receiver lights constantly. Then press the button 1 of the remote control, until the LED flashes on the receiver and then turns off. Your remote control is now programmed and synchronized with your receiver. To program the second channel on the receiver, simply press the Set button SW2 and the second button of the new remote.