19/07/2015
The remote controls for doors Extel
Extel provides remote controls for garage doors at very reasonable prices. The transmitters are easy to use. Various models are available on our website. By clicking on the link below you will find a preview.
The remote controls for doors from Extel on remotecontrol-Express!
To find the remote control that fits your system, simply enter on our website, the data (number and color of the buttons + frequency). If you do not know this information, choose "unknown" for the number of buttons and frequency and "all" for the color of buttons.
Select the brand Extel to get all available EXTEL remotes on our website. For example, the remote control EXTEL 141-1, with its small housing (66 x 13 x 38 mm), only one button, a frequency of 30.875 MHz and a 12V battery. Our website also offers the appropriate Programming Guide.
Programming the remote control Extel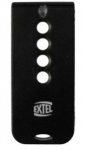 The guide on our website allows you to use all functions on the new fob and shows you how to set it correctly and thereby benefit from the product fully. It is clearly and simply described step by step, how your remote must be programmed. Suppose the remote control Extel ATEM 5. Move the cursor S1 to the position PROG and press the button P1 on the receiver for about 2 seconds.
The red LED 1 flashes slowly and then goes out when you release P1. Now on the new remote control, press the button you want to program until the LED1 lights up again. Then the remote is programmed. For each remote model is a PDF available with instructions and hints from other customers. Our customer service is open for questions and assistance. We are available from Monday to Friday 9am – 5pm. You can also send us an e-mail. The delivery time is 48 hours and is free of charge, when you purchase 2 remote controls or more.