29/09/2015
Features of the remote control SOMFY KEYTIS-NS-2-RTS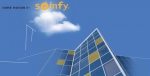 SOMFY is a French company, which is specialized in the production of motors for opening and closing of doors, shutters, etc., both for private and commercial customers.
With its expertise, this small French company, founded in 1969, has become a global market leader and has offices in over 60 countries.
The features of the remote control SOMFY KEYTIS-NS-2-RTS
The Somfy remote controls are ideal for the opening and closing of the gate, garage door and even shutters. Compact and lightweight, the remote for gates fits easily into the glove box or directly to the keys.
The SOMFY Keytis NS-2-RTS remote control works with a 433 Mhz radio frequency. It is compatible with many devices with the RTS technology. The black housing can be adjusted thanks to the 4 color clips to personal taste (burgundy, green, blue and black). The remote comes with a CR2430 battery.
Programming of the remote control SOMFY KEYTIS-NS-2-RTS
Programming the remote control SOMFY is quick and easy and requires no tools. It is carried out on the existing receiver. In most cases, go to the vicinity of the receiver, open its cover and press the programming button until the LED lights up there. Now press the button on the new remote control. The LED flashes and then turns off. Then it is programmed! On a receiver type Axroll, you open the case, and press the arrows until P.8. appears. The 0.0 position, corresponding to the opening and closing of the door, will appear on the screen. You must now press for a few seconds, while the button on the remote that you want to program, and the + button of the receiver. Dashes appear on the display. Release the keys. Wait a few seconds and the remote control Somfy Keytis is programmed!