30/07/2015
The remote controls for gates Genius
Genius is an Italian brand that specializes in the mechanization and automation of gates, garage doors, industrial doors and barriers. For more than 40 years the company has developed solutions to control the systems and make them more practical and efficient for customers.
The remote control for gates Genius
The Genius remote controls for gates are characterized by the ease of use, thanks to the classic form. They have 2.3 or 4 buttons and allow you to open or close the door by simply pressing a button. A garage from Genius will only work with original remote controls of the brand Genius, which is planned for the system. Therefore, be sure to choose the right product for your system, so it is compatible with your system and can function.
The remote control GENIUS TE433H BLUE works on a frequency of 433.92 MHz. It has 4 buttons and is initialized by registering it at the receiver. It is powered by 12 volts (23 A) batteries. Its small dimensions of 60x15x45 mm are easy to handle.
How to program the remote from Genius?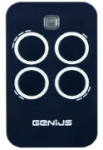 The remotes from Genius are easy to program. Take for example the remote control GENIUS ECHO TX4, which must be registered directly on the receiver. For this you open the cover of the engine and then press the programming button on the receiver board. Release the button.
Now, while the LED on the receiver is lit, you press a button on the new remote control for your Genius gate until the LED flashes on the receiver. Now you release the button. The LED will stay lit again and then go off. Your new remote control is programmed. You can also program the new Genius remote control with the help of an already programmed remote from Genius of the same type. Simply follow the instructions.