09/10/2015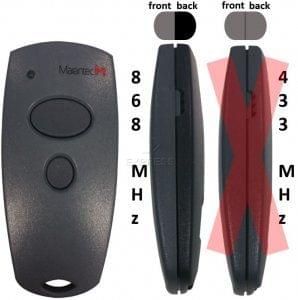 MARANTEC is a family business that was founded in 1957. It specializes in the production of innovative remote controls for automating gates. It is undoubtedly the most experienced suppliers in this area.
The properties of the remote control MARANTEC D306-868
This remote control has been designed for use for garage doors, industrial doors, swing gates and many others. It has a small size, so that the handling is easy. It has a length of 72 mm and a width of 17 mm and 39 mm in height.
This remote control model works at a frequency of 433.92 MHz. It is therefore compatible with many door models. This Marantec remote control is supplied with a battery and instructions for use and programming. All products of this company have a warranty of 1 year. In case of malfunction or wrong choice, a replacement will be made within 30 days after delivery.
How is the MARANTEC D306-868 programmed?
The programming of Marantec D360-868 remote control is very simple, but in order to avoid that you have difficulties in programming with the Marantec Motor, some tips from us here. First, open the receiver and press the programming button. On some receivers, you need to hold the button for a while.
Normally, the LED should light up to indicate the programming mode. Now press one of the buttons on your new remote control for a second. The LED on the receiver should flash to confirm the connection with your garage door remote control. Finally, wait for 10 seconds to exit the programming mode. Now your new remote control is programmed and ready to use.