01/07/2015
Features of the remote Berner BHS140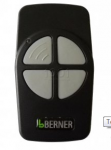 The Berner brand was founded by German entrepreneur Albert Berner. The company specializes in the sale of industrial supplies and tools. After five successful decades, the brand has developed by selling remote controls for gates and electronic tools.
The features of the remote control Berner BHS140
The Berner remote BHS140 is intended for doors. Reliable and robust, with its small dimensions of 70x15x40 mm and a nice design in black and gray, the fob is easy to use. Its LED is blue. The integrated code system prevents to clone the remote. The remote control works with CR2032 batteries.
It is ideal to control your gate. The transmission frequency is 868.3 MHz. The use of this fob guarantees high security at the door controller. The Berner BHS140 accompanies you everywhere and saves time when you open the door system.
How do you program the remote control Berner BHS140
To program the remote controls Berner you need to use only the 4 keys. With a pointed object press the programming button P1 on your new remote control (for BHS 110 you must use the housing of the remote control to open). The LED flashes. In the next 4 seconds, press on your new remote control button you want to program. Hold it.
The diode fixed enlightened. While holding the button, you are approaching the already programmed fob and the new remote head to head, so they only 5 mm apart. Press the same button on the already programmed fob. The LED goes out. Release the buttons. Repeat the procedure for each button you want to program. Your new remote control is programmed.