29/01/2015
Panasonic TVs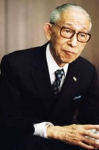 Konosuke Matsushita created March 13, 1918 a company for consumer electronics. The company then bears his name: Matsushita and is headquartered in Kadoma in Japan. In 2008, the Japanese company has taken the name Panasonic. It designs its own electronic components that are acclaimed in the market due to their uniqueness, their unparalleled performance and best value. Panasonic TVs got an impressive performance with their deep blacks, their rich colors, their sharp, detailed images.
Range of Panasonic TVs
Panasonic offers plasma televisions which ensure a clean and sublime image, a natural coloring that will honor your Blu-ray movies. Panasonic LED TVs are more efficient. The company uses IPS technology that provides an angle of more consistent vision, better contrast and a more natural color. Vera with the Panasonic TV with multiple USB ports, you will be hyper connected. You can connect your external hard drives, webcams, and even to the Internet, in addition, they guarantee you a great energy saving.
Panasonic Accessories for TV
Among the TVs of the brand, the Panasonic TX-L24C3E has a 24 inch screen, TFT technology, an HDMI port and a memory card reader. This matte color television will be delivered with 2 speakers and a Panasonic remote. The Panasonic TX-L32E, larger 32-inch has a semi-gloss color image is more fluid and the response time of 2ms. It has the same accessories as the first TV but with 3 USB ports, a Viera Remote app, Skype software and optional WiFi and Ethernet connections. Finally, the Panasonic TX-P50VT30E 50-inch has a Plasma and 3D screen, 3D glasses are supplied with this TV. Its response time is much faster, 0.0001ms.
Panasonic Blu-ray players are the best in the market and defy all competition in image, stereo and quality / price ratio.