20/04/2015
Motorize your garage door with Marantec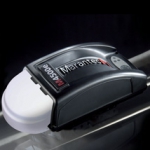 Each time getting out of the car to open the garage door can be annoying very quickly, especially when it rains. Therefore, the logical reflex is to install a motor that operates the garage door or gate quickly and easily.
The different engines from Marantec
The remote controls from the brand Marantec are available in different models and there are two different methods to program them. The first option is the mini coding switch that you can find on your receiver and transmitter. The first one is coding with switches. They simply must be placed in the same position as on the receiver or old remote. The second programming method is via a supplied adapter. A new remote control is connected to a programmed remote and the signal is transferred from one to another. The programming process is not difficult. Follow the instructions supplied with it.
The Series Comfort 200, the classical solution for the motorization
These drives are the most typical of the brand Marantec and are extremely practical and efficient. They are equipped with a built-in energy saving mode and a lighting by LEDs, the drives are very economical. The remote controls are included and are allowing controlling the motor via distance and out of the car. A further advantage is the integrated system for detecting obstacles. Once your door encounters an obstacle, it will go in the inverse direction. To offer more security, the drives are running at a fast speed, 160 mm / sec, so that the door closes quickly. Against power failure, a battery can be connected with it, which thus supplies the engine in case of emergency.
You are looking for an effective solution to use your garage door automatically? The remote controls by Marantec are here to help you very much. They offer security and are easy to use.