15/04/2015
How do I program my remote control FAAC XT2 868 SLH ?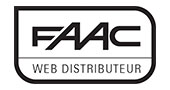 The FAAC brand is developing since 1965 solutions for the motorization of industrial gates, community garages and private gates. The brand offers a variety of products which will allow controlling the access for pedestrians and cars. The goal of FAAC it is to create safe and durable door opening systems. Therefore, FAAC offers a wide range of technically advanced products.
How to program a remote control FAAC XT2 868 SLH?
The programming process for this remote is very simple. Just click both buttons on a programmed remote to go into programming mode. Then hold the new FAAC remote next to the Old and press and hold the button to be programmed. Following these simple steps, the LED will flash three times. Your button on the new remote is registered! Repeat the process for each additional button you want to program! This programming is simple and effective and makes it easier for you. So you can combine different functions on a single remote.
Properties of the remote control FAAC XT2 868 SLH
This Faac remote control allows you to control the engine of the sun shades, of the door, the garage door, roller shutter or swing door, quite easy by distance. Thus, you can control all units with a single remote. The dimensions of the remote control (63 mm x 40 mm x 10 mm) allow a good handling. This remote runs on the frequency of 868.35 MHz and it is self-learning. The battery type of the transmitter is the CR2032. You benefit from a warranty of 1 year and of course batteries and instructions are included in the delivery. The method of programming of this remote has been designed for an easy and intuitive programming. You do not need any additional materials.