19/05/2015
The garage door remote controls of Doitrand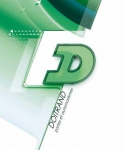 DOITRAND is a French company based in the Loire region and it is mainly known for its automatic gate and garage doors. She also sells various swing doors for various applications. The brand also offers the matching high quality remote controls.
Doitrand remotes
DOITRAND, the # 1 French manufacturer for gate motorizations, offers a selection of remote controls to control the gates. In the past DOITRAND has produced only simple classic-styled remotes. The new models are, however, designed very modern. With rounded edges and buttons and they have also greatly improved sending distance. A further advantage is that there are only a few types of remotes and thus the selection is easier. The recently introduced models are the DOITRAND TS2DE and TS2RE and the respective 4-button versions.
How do I program the remote control?
The remote controls for doors of DOITRAND are best quality and are very easy to program and to do this: go in a distance of 1-2 m next to the engine with the new remote. Press both buttons on the new remote control. The LED of the remote lights up, goes out and comes on again. Then release the buttons.
Press again both buttons and wait 10 seconds.
Then press the button you want to use for 5 seconds, release the button and wait for 10 seconds, the programming was successful.
To program the remote control DOITRAND TS2DE with an already programmed remote control or your receiver, you simply look at the position of the DIP-switch and set the DIP-switch on your new remote in the same position.