24/06/2015
Somfy, Innovation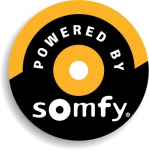 Somfy is a French company and was founded in 1969. Since then the group grew continuously and always took care of their company motto: quality, durability and performance. Today they sell their products in more than 60 countries all over the world. With more than 100 million motors sold, Somfy is the leader on the international market for motorization of gates, garage doors, shutters, etc.
Somfy and Innovation
The beginning of roller shutter motors goes back 40 years. Somfy since then has not stopped to develop new solutions for the engines and to improve them steadily. So products were developed that simplify the environment and adapt to specific requirements, such as companies with industrial doors, rolling door for shops and residences with automatic gates or barriers. With the remote controls by Somfy, you can easily control the Somfy motors from a distance.
Some Somfy remote controls
In order to make life easier and to improve security at home, Somfy provides a number of engines for all types of openings and closing. Among the solutions that are offered are the SOMFY RTS KEYPAD, this is a remote control with 433 MHz frequency, which works with CR2450 batteries. This is very easy to program and has 12 keys to enter a code to control the gate.
There are also the remote controls SOMFY KEYTIS 4 ALARM HOME IO, ideal if you are looking for a remote control capable of controlling 4 different Somfy motors simultaneously, for example, your gate, the garage door, the shutters, the lighting and windows. This remote control also allows you to activate the alarm system from a distance of up to 30 meters.