01/06/2015
Wireless Key Pad - CAME - S9000: for a simplified control of your motors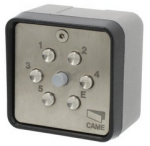 Nothing is more useful than a code keypad to enhance security of access to your shop, private property, buildings ... This is a device specifically designed to manage the automatic closing and opening of gates and doors. As a good example of a keypad, the CAME S9000 digital code is a wireless model. This one is specially designed to make the management of your motors of the same brand easy.
Some features about the wireless - CAME - S9000
Operating on the frequency 433.92 MHz, the CAME S9000 is a wireless code keypad with nine buttons, capable of memorizing up to 4 different codes. It is possible to choose among several million combinations with the digital wireless keypad S9000 to prevent the opening of the gate or door in case of burglary.
The radio receivers AF43S, AF43SM, RE432, RBE4MT are perfect compatible with this device. In addition, the S9000 keypad works with a 12V battery, which is included when purchased. It can be used with remote controls belonging to the TAM and TOP series and can secure up to four different devices. Each of the secured devices can be protected by 390,624 possible combinations. This model from CAME is very robust because it has a cover made of aluminum, steel and stainless steel.
Things to know about the installation of the wireless keypad - CAME - S9000
Thanks to its wireless design, the Digicode CAME S9000 can be installed easily. In addition, a manual is delivered with the device so you can easily fit it. This model has been designed for outdoor installation. Indeed, his very resistant box displays a degree of protection IP54. For a first use you have to choose a combination. Note that it is possible to choose a password composed of 2 to 8 digits with the wireless code keypad CAME S9000. The default code 555 must be replaced. The changing of the combination is as easy as typing, it is sufficient to use the buttons on the keypad and being careful to follow what is stated in the manual.