06/06/2015
The Liftmaster remotes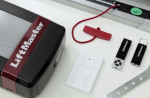 The brand Liftmaster offers reliable automation solutions. The products designed by this company are characterized by their simplicity of use. As simple press on the button of the Liftmaster remote and you it is possible to access the street from your home. The automation of this brand also combines elegance and efficiency with an intelligent control system. The offer of Liftmaster is quite complete and includes swing doors automation, automation of gates with articulated arms, as well as built-in automation controls for sliding doors.
Remotes for gate Liftmaster
The Liftmaster remote is designed that you can easily open and close your gate. Some models of Liftmaster garage door are equipped with a technology that avoids manual handling. Remote controls of this brand are generally powered by batteries. The remotes must be registered on the receiver of the motor.
Different models of Liftmaster remote controls
The Liftmaster brand provides its users with a wide range of remote controls. These include for example the 94335EML which is a remote control for gates. It works with on a frequency of 433.92 MHz. It is a device that works with a CR2032 battery. With dimensions of 60 x 13 x 36 mm, its handling is easy. Moreover, it is a remote which must be registered on the receiver.
This model has 3 buttons for up to three functions or doors. We got also the model Liftmaster 4335E that stands out through its simplicity in programming. Indeed, no additional hardware is required to program the remote control that uses a radio frequency 433.920. This system, which has dimensions of 12 x 62x 37 mm is powered by a CR2016 type battery. As for the coding of this remote control, it is a self-learning system.