13/06/2015
Find the right V2 remote control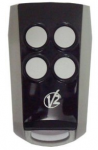 The Italian brand V2 exists since 1980 and they created the first gate, garage door motorizations in 1987. The brand is known for practical and robust products that are always on the cutting edge of technology. The V2 automations for gates and garage doors can be controlled by distance. The motors for garage doors and remote controls vary with time. The remote controls are called: V2 TXC4, Phoenix, V2 TSC4 and HANDY.
The various V2 remote controls for gates
You finally want to the remote control for your gate that is the most robust and easiest to use? The online resellers, who are specialized in remote controls, offer a wide range of compatible V2 remotes. The websites offer remote controls of quality, which are safe and reliable. Use our search engine to find the appropriate V2 remote. TXC4, TSC4, Phoenix or HANDY; the V2 remotes come with one year warranty.
Choose the correct V2 key fob: the important features
First, check the model number of your system. Contact the technical service of the brand in order to obtain advice to choose the right model of the appropriate remote control for your garage door motor.
The V2 remotes are in principle universal remote controls on the cutting edge of technology for automation. They provide safety when opening and closing the gates, with a programmed alarm system. Check on the back of the remote control the manufacturer code. The factory code is the number 0047. As a remote with 4 keys, you can easily control your V2 gate.